#1 Restaurant Lighting Service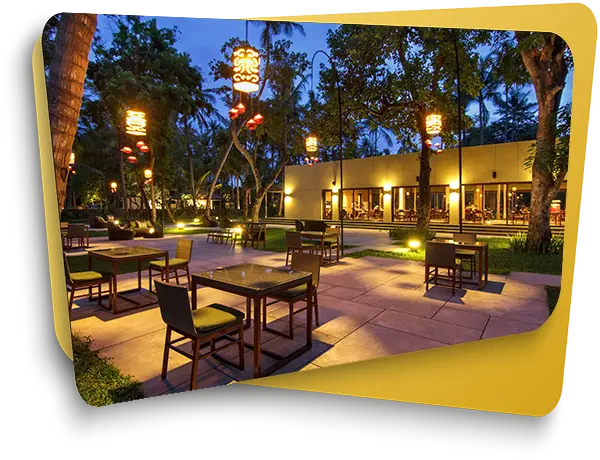 Few things can set the dinner mood better than some soft string lighting or a brightly illuminated tree. If your restaurant welcomes guests with an outdoor space, then some strategically placed lighting can transform the dining experience into one your guests will truly remember. Elegant Accents offers professional outdoor lighting services for restaurants of every kind and any size. Our designers have extensive experience creating breathtaking installations for restaurant patios and can help you find the display that brings perfection to your venue's vibe.
In order to bring you superior service, our Elegant Accents team will provide:
How Will Outdoor Lighting Help My Restaurant?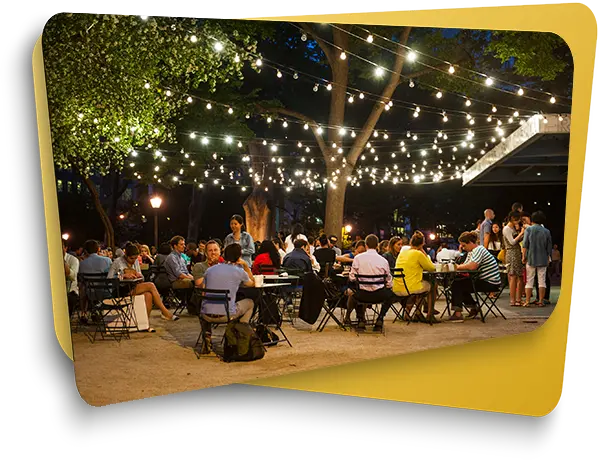 For your guests to truly enjoy their outdoor dining experience at your restaurant, the best lighting is needed. Without the right lighting, the beauty of the mood you set cannot be enjoyed in all of its splendor. With our help your outdoor setting will not only come to life but may even become a favorite with those who visit.
Great Romantic Dinner – Couples that come to your restaurant will embrace the beauty of your outdoor lighting. With the fresh air, excitement, and romance, your new outdoor lighting will help couples embrace the night with the enlivened lighting.
More Business – With professionally installed outdoor lighting by our Elegant Accents professionals, you will see your business boom, especially during the summertime hours.
Inviting Feeling – Outdoor lighting will make your guests feel welcome. Your outdoor space may also make patrons feel safe, giving families a warm feeling.
Need Restaurant Lighting?
Let the Professionals Handle it!
Many things factor into providing the perfect outdoor dining experience. The environment and the lighting must meet in perfect harmony in order for your guests' dining experience to be memorable. However, in order for your restaurant to provide the outstanding memorable service you are looking for, you must have the right restaurant lighting professionals to help you bring the perfect dining experience to life.
Accuracy – Hiring a professional will guarantee that wires are buried appropriately and are secure. Professional restaurant lighting installation also means there will not be a mess left behind to clean up.
Warranty Programs – Professional installers are always backed by warranty programs to keep your system like new for years to come. Professional installers may also offer you these warranties by installing top-of-the-line products at an affordable price.
Knowledgeable – You should always choose a professional installer who has experience. When you are paying someone to work on your outdoor space, you want them to have the knowledge and training to get the job done right. So, asking for a portfolio of previous projects or reading reviews, will let you know if the professional you are interested in can get the job done.
We are the #1 restaurant lighting professionals in Tampa and the surrounding areas. If you need lighting for your outdoor space, give us a call to schedule an appointment.
Pick the Right Lighting For Your Restaurant Areas
We'll Help You Set the Mood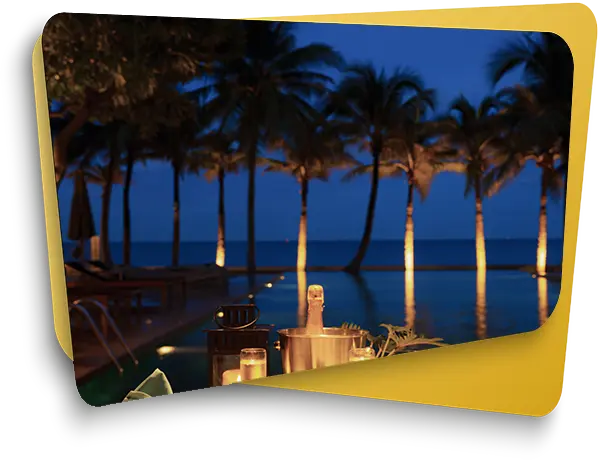 Our design professionals will create a lighting experience helping you bring beautiful memories to your customers. From entry landscaping to outdoor table areas, we can make the spaces look amazing at night. From warm white lighting to color and color changing, we can create a spectacular atmosphere to enhance everyone's dining experience. Give us a call to schedule a lighting design consultation with the best lighting design company in the Tampa Bay Area.