Landscape Lighting Experts
Professional Design & Installation
Landscape Lighting Design & Installation
Our landscape lighting and outdoor lighting service company has been serving homeowners in the Tampa area for over 20 years. Our Lighting Designers are the best in the business! We offer quality, professional grade products, superior workmanship, outstanding customer service and unique solutions to each and every client.
Landscape Lighting Maintenance & Service
Outdoor landscape lighting requires service and maintenance. Let our professionals diagnose and repair your lighting system. Keep your Elegant Accents Landscape Lighting system shining bright by having a worry-free service maintenance agreement.
Holiday Lighting
Make your holidays bright with a Holiday Lighting Package from Elegant Accents. Our holiday lighting services include a professional design, installation, removal and storage of your outdoor holiday lighting. We offer a wide variety of design choices so book your design consultation soon.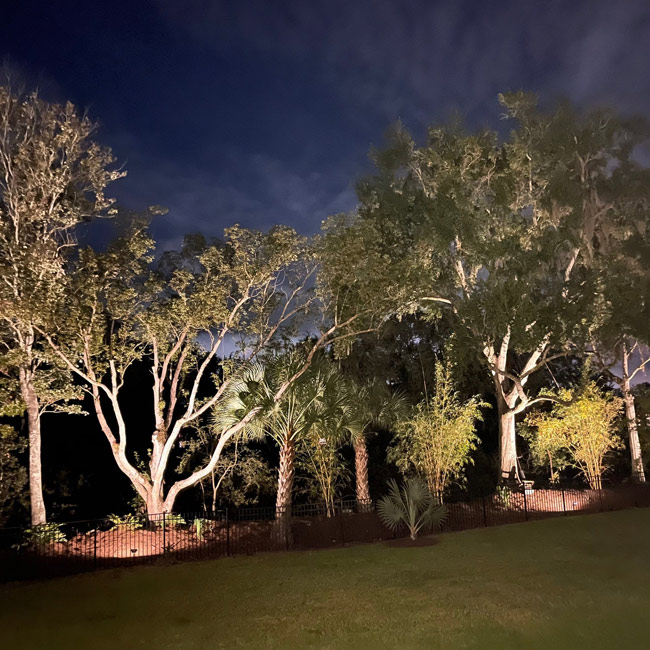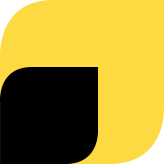 Elegant Accents Outdoor Landscape Lighting Services
Our landscape lighting designers have years of experience and proudly maintain 5-star ratings for our outdoor landscape lighting company in the Tampa, St Petersburg and Clearwater area. Our lighting design specialists will always provide the highest quality lighting designs and installations for your home or business. 
Proudly located in the Tampa Bay Area, our professionals offer timely and elegant outdoor accent lighting design consultations and lighting systems.  See the incredible effect a professionally designed landscape lighting system can have on your home with a Free lighting design demo. We always guarantee your complete satisfaction on every outdoor landscape lighting project.
We offer a diverse and noteworthy range of benefits, including


Professional Grade LED Fixtures & Bulbs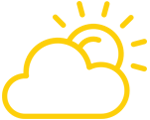 Outstanding Customer Service
Landscape Lighting Installation
Elegant Accents Lighting will transform your home into a beautiful and peaceful oasis with the use of professional-grade LED lights. Our lighting solutions use energy-efficient LED bulbs that will last for thousands of hours and use 90% less energy than incandescent lights. Let us create a custom lighting design and bring your dream property to life.
Decades of Lighting Design Experience
Elegant Accents Lighting has spent more than 20 years learning everything about outdoor lighting perfecting our installation techniques along the way. As we've grown to be the premier lighting company in the Tampa, St Petersburg, Clearwater area, the knowledge we've earned is indispensable.  Trust the lighting experts at Elegant Accents with this investment to your home.
Add to Your Home's Curb Appeal
Few landscape design options add more curb appeal to your home than LED lights. Elegant Accents Lighting will install lighting fixtures that detail and improve your property's overall appearance. Our team can use lighting to focus attention to a certain area, create a lighted pathway on your driveway, or even add depth to your home's landscape. We have a variety of fixture options for specific design needs. Let our expert designers create the ultimate lighting package for you.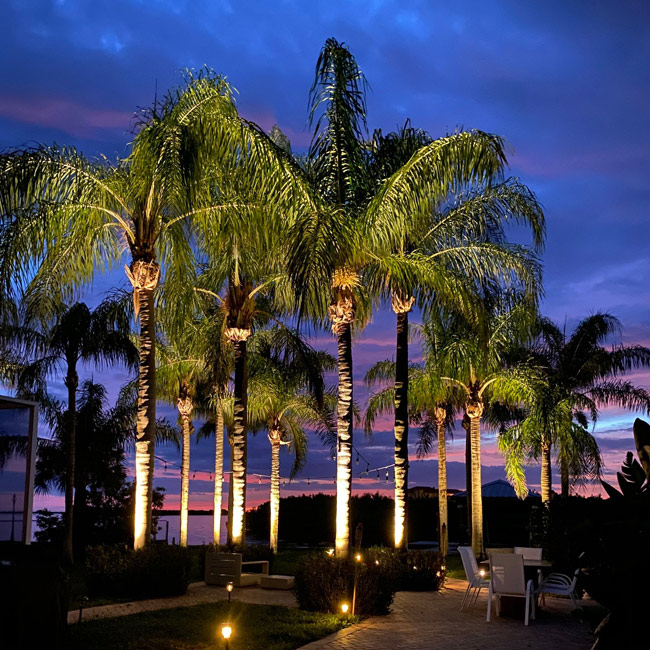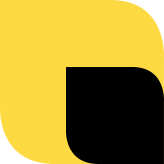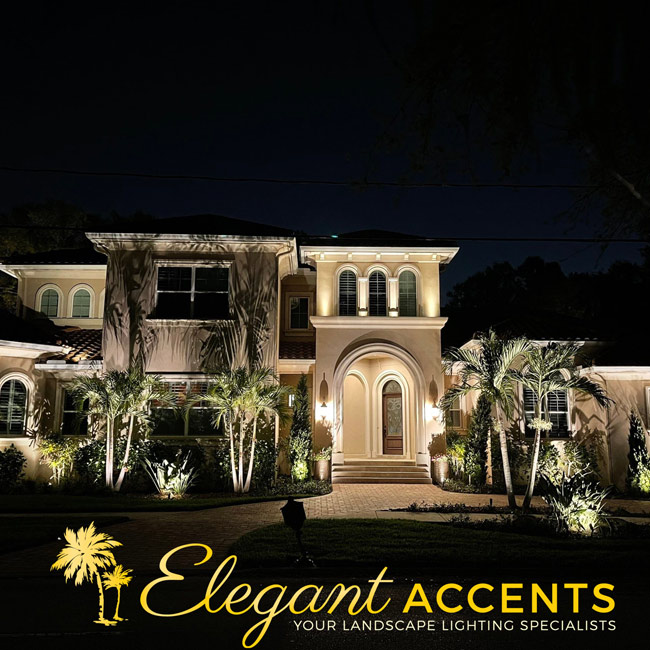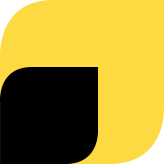 Wide Range of Lighting Options
You might be surprised at the number of lighting options available to your property. Elegant Accents Lighting offers up lights, garage lights, pathway lights, deck lights, patio lights, soffit lights and more! Our designers know which fixture to use to bring your home and yard to life.
Experienced and Dedicated Installers
The lighting experts at Elegant Accents Lighting have been hand-picked and well-trained to ensure proper lighting installation every time. Whether the landscape lighting project is big or small, they'll give you the spectacular customer service that you deserve. Our team will treat your home as if it's their own and provide superior service throughout every step of the process.
Free Lighting Installation Demo
Elegant Accents Lighting understands that seeing is believing. That's why we offer a free lighting installation demo. Rather than being restricted to computer renderings to give you an approximation of the lighted landscape, our team will visit your property and demonstrate the lights so that you can see exactly what the finished product will look like.
Make your Holidays BRIGHT with Elegant Accents Holiday Lighting
We Are Your Holiday Lighting Specialists
Stay off the roof and out of the hot attic! With your busy schedule and holiday planning, getting your home ready for the holidays can be a challenge. Preparing your home for family and friends may bring a warm and joyous feeling but if you do not have the time or an idea about what you want your holiday lighting theme to be, you could be up for a challenge. 
Have no fear! Our professionals at Elegant Accents Lighting will help you get your home ready for the holidays. We offer a wide range of holiday lighting options including roof line lighting, holiday lights for bushes and trees, wreaths and garlands, and even yard décor. Our white-glove no touch service starts with a professional design consultation – helping you choose your holiday theme. Our elves will then install your holiday lights and service them throughout the season. In January, they will magically disappear and be stored in our warehouse until next year. All you need to do is enjoy being the envy of your neighborhood! We are the best holiday lighting installation team in Tampa and we are here to meet all of your holiday lighting needs. Give us a call to schedule your holiday lighting consultation and holiday lighting installation.