For Your Home or Business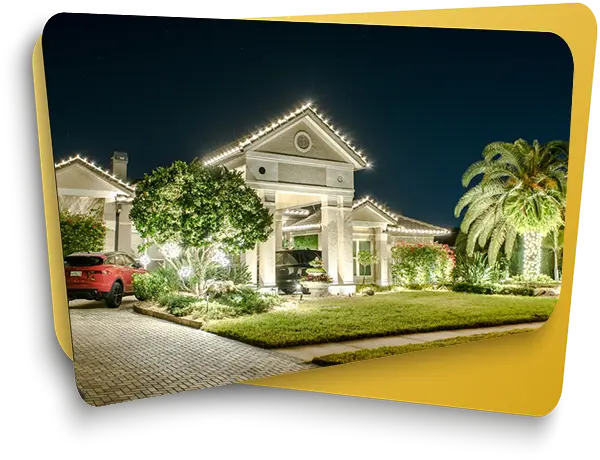 Elegant Accents Outdoor Lighting is well-known for our expertise with LED landscape lighting in Tampa and the surrounding areas, but the Christmas holiday is one of our most exciting times of the year. Our team looks forward to helping our customers share the joy of the holiday spirit and install holiday lights to homes in Tampa! No more climbing rickety ladders. No more untangling a mangled mess of lights. No more worrying about the lights not working from improper storage. We'll handle everything and your home will look fantastic for the holiday season.
Turn Your Home Into a Holiday Celebration!
The holiday season is one of the most wonderful times of the year and Elegant Accents Lighting wants to help you celebrate. Each year, we use our expertise in lighting design and installation to turn homes in the Tampa area into holiday masterpieces. All you have do is sit back and let our professional lighting installation team showcase your holiday spirit for everyone to see.
The Right Equipment and Training for a Safe Install
Last year, there were over 40,000 accidents related to holiday light installations! Each year, households across the country experience accidents as homeowners and household members attempt to install holiday lights on their own. With Elegant Accents Lighting, you'll never have to worry about falling off a ladder or roof. Our professionals are quite adept at hanging lights in high places and have all the equipment required to do so quickly and safely.
PROFESSIONAL PROCESS FROM START TO FINISH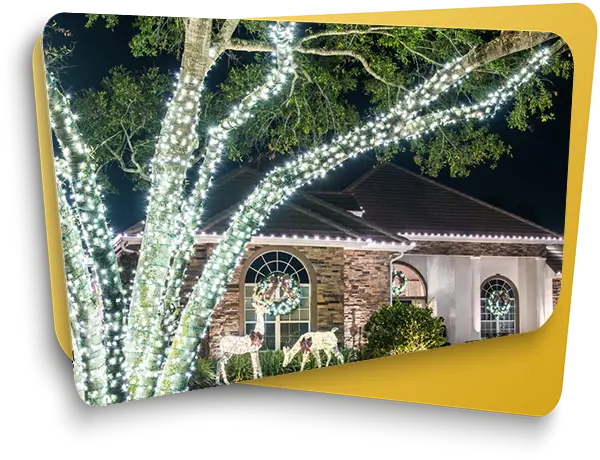 Stay off the roof and out of the attic! Let our team take care of your holiday lighting needs from start to finish. Our white-glove, no touch premium holiday lighting packages include:
Professional Holiday Lighting Design & Renderings
Professional Installation (use of lifts, professional tree climbers, etc. to handle any project safely!)
Commercial-grade LED lights with a 3-year replacement warranty
Fast service during the season. Call us if even one bulb is out!
Magical Removal at the end of the season
Storage in our secure warehouse
Re-installation for next year
Elegant Accents Lighting provides the same level of professionalism to each project we work on. We'll work tirelessly to make your home look great for the holidays. Holiday Lighting has a very small installation season. To insure outstanding client service, we have a limited number of installation appointments available. Typically, our installation season is filled by the end of September, so do not delay in requesting a design consultation.
Here is how the process works…
We start with a phone consultation to discuss how our service works to see if we are good fit for your needs.
Our Holiday Lighting designer will then come to your home to discuss your plans and create a custom design just for you!
Pay your deposit to secure your installation date.
Relax and ENJOY your holiday light experience!
CONTACT ELEGANT ACCENTS LIGHTING FOR YOUR HOLIDAY LIGHT INSTALLATION IN THE TAMPA BAY AREA!
If you're going to install holiday lights this year, you simply can't beat the service provided by Elegant Accents Outdoor Lighting. For the finest in luxury holiday lighting, call us today for a consultation.