Backyard gardens have always been important havens of solitude for world-weary homeowners, as well as venues for entertaining family members and friends, weather permitting. Some homeowners go to great lengths to include garden landscape lighting that makes their garden feel lush, inviting, private, and more. This helps to transport visitors to another world, away from the hustle and bustle of daily life.
Today, indoor/outdoor living spaces that blend seamlessly into one another are all the rage. However, if you want you to use your backyard well into the evening hours as the crickets chirp and the frogs serenade, you may need more than moonlight to keep the party going into the wee hours. In addition, you're probably keen to show off the best features of your landscaping, day or night. In other words, lighting is an important element of any landscaping ideas you choose to implement.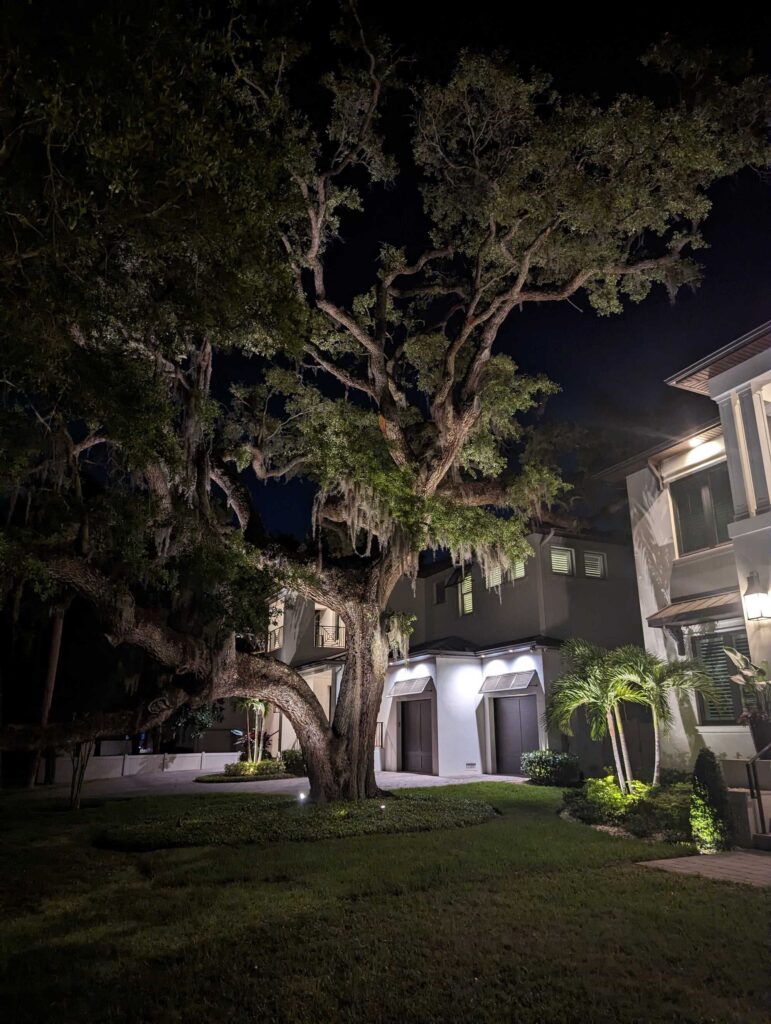 Here are just a few ways to upgrade your garden landscape lighting to take advantage of the latest trends in outdoor lighting design.
1. Solar Lighting
Conservation is very on trend, and not only because of the recent recession.  Global warming, deforestation, habitat loss, and waning biodiversity have gained enough attention that people are beginning to look for ways to reduce their environmental impact on a personal level. In terms of garden landscape lighting, an eco-friendly approach can be accomplished easily enough with solar lighting options.
You can get pathway lights that each have their own solar panel attached, string lights that have just one solar panel, or other options. If you don't get a lot of sunlight in your area, you can at least consider energy-saving LED options to help you to conserve.
2. String Lights
Nothing says garden party like festive strings of lights crisscrossed overhead.  You can easily use this aesthetic to illuminate gatherings and highlight your landscaping by adding garden landscape lighting. You can run them up tree trunks, place illuminated netting over bushes, and even hang ball lights from branches and eaves.
This form of landscape and architectural lighting can do more than illuminate – it can show your creative and whimsical side and make for a fun and festive outdoor atmosphere.
3. Combine Garden Landscape Lighting and Safety
In design, an important rule is "form follows function". In other words, design elements first need to serve their purpose before you start thinking about aesthetics. Of course, both aspects of design are important.
Nighttime landscape lighting is intended to illuminate entryways and paths so that people can find their way around. It is also used to show off architectural and landscape features. Combining these two purposes can be tricky, but when you think about where you want to put lighting for safety and how you want to showcase the features in your yard, you should be able to combine your goals for a symbiotic lighting design.
4. Water Features
Creating a relaxing outdoor space could mean including fragrant flowers, cultivating tall bushes or trees that add privacy and shade, or installing a water feature to compensate for the noise of traffic and neighbors. The good news is that your trickling stream, gurgling pond, or swimming pool could all play a role in lighting your yard.
Whether you use in-water lighting to create a dim effect or you surround your water features with accent lighting, this is a great way to add some well-placed illumination to your overall outdoor lighting scheme.
There are mobile apps that allow you to remotely engage your home alarm system, control your thermostat, and even turn appliances on and off. You can also control home lighting from your smartphone or tablet.
Why not do the same for your garden landscape lighting? With the right fixtures, bulbs, and apps, you can set up your outdoor lighting to dim or brighten at your command.  You can also set lighting schemes for different users and even have lighting change along with music. The world has gone wireless and you can use technology to your advantage when you upgrade your outdoor lighting.
Contact Us
Elegant Accents Outdoor Lighting
https://www.google.com/maps?cid=6993593608973416752
5553 W Waters Ave Suite 310, Tampa, FL 33634
(813) 629-2228
https://elegantaccentsinc.com/