It is possible to utilize inventive outdoor lighting ideas to boost the look and feel of your home and lawn. You can have the best-looking house in the neighborhood, but it won't appear like a showcase winner without well-thought-out lighting. Well-planned Tampa inventive outdoor lighting ideas can provide your home with a whole new look and make your household feel secure from possible intruders when night falls.
Choosing Between Solar or Electrical
Solar
Before you decide on which inventive outdoor lighting ideas will work best for your property, you should also take into consideration whether you want to use solar or electrical lighting. Solar lighting components tend to usually be the cheapest and are certainly so when it comes to using the lights because they draw their power from the sun during the day and then use the power when night arrives.
Electrical
Electrical lighting is more expensive but puts out a brighter quality of light than solar does in most instances. Electrical lighting can be quite expensive to have installed outdoors because of the necessity for homeowners to run wiring from the light to the home's electrical system. Also, electrical lighting can most likely cause you to use more energy, which means higher electricity bills, whereas solar-powered light will harness the power of the sun, which is a renewable source of energy.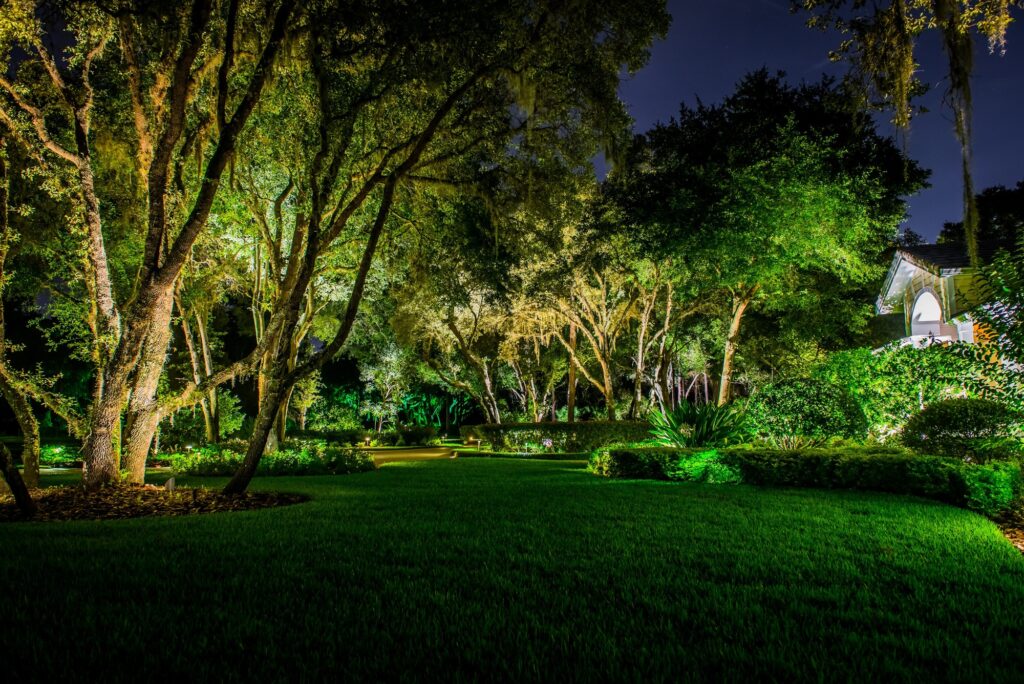 Here are six inventive outdoor lighting ideas for your home.
1. Create a path
While this might sound a bit simplistic, using pathway lights is a great way to add some fun personality to your yard. Consider using pathway lights along a stone pathway or a trail. They do not have to be used only along a sidewalk. Pathway lights are generally inexpensive and do not need to provide much illumination for this purpose. Solar lights are a particularly good choice because they can be easily placed just about anywhere you need them without external wiring or setup.
2. Create a shadow
If you have any feature like a tree or a shrub that is close to a wall or another large flat surface, consider putting a bullet light or directional light on the ground that points towards the figure. With proper placement, the light will cast a dramatic effect on the wall.
3. Use in-ground lighting
You may not realize it, but some landscape lights can be recessed into the ground where they are hidden from sight. This is a great way to clean up the look of your yard. Because most ground lighting systems use 120-volt electricity, which is not advisable for most do-it-yourself projects, you should consult a licensed professional.
4. Use sharp angles
Another great way to add personality to your landscaping is to place downlighting below the object you are trying to illuminate. Since the light is so low, you will need to set it at a sharp angle to light the area. These sharp angles will cast shadows that add dramatic visual appeal. Take care that the angle is not so sharp that the light does not hit every point that you are aiming for.
5. Light in groups
Instead of thinking of lighting your garden as a whole unit, think of it as lighting in groups. Lay out your garden in a kind of grid and light individual parts separately. Treating each area of the garden as its own individual section will help you highlight its features and give the area exactly what it needs to look great.
6. Landscape Accents for Outdoor Lighting Ideas
If you have sizable flower beds or other ornaments that you want to show off, outdoor lighting is a great way to do so. Small spotlights on a fountain or other accessories in a flower garden can have a dramatic effect.
Additional Outdoor Lighting Ideas
Here are some extra tidbits to get the very most out of your lighting: think about utilizing timers on your outdoor lighting to streamline turning the lights on and off. These timers are also fantastic for leaving the lights on while you travel or take a vacation. It makes your home seem lived in when you're out. Brighter is not always better, so the goal when it comes to outdoor lighting ideas is to brighten up the lawn with fewer lights. This could be hard, but it is simple with a little well-thought-out placement.
5553 W Waters Ave Suite 310, Tampa, FL 33634
(813) 629-2228