When most homeowners think about upgrades, they're looking to improve the value of their homes by upgrading rooms and landscape lighting and then see some return on investment. However, there are also upgrades that can increase your use value and make your home more appealing in general, even though they don't necessarily equate to dollars in your pocket when you sell your property.
Although the return on investment for adding curb appeal is iffy, there's no denying that an attractive exterior makes a good first impression. Whether you're entertaining guests or listing your home on the market, first impressions set the tone for visitors. Plus, you want to get maximum enjoyment from your property. Once you've gone through the trouble of painting your facade, upgrading fixtures, beautiful landscaping, and installing landscape lighting, the next step is to properly light your exterior spaces for round-the-clock curb appeal (not to mention utility).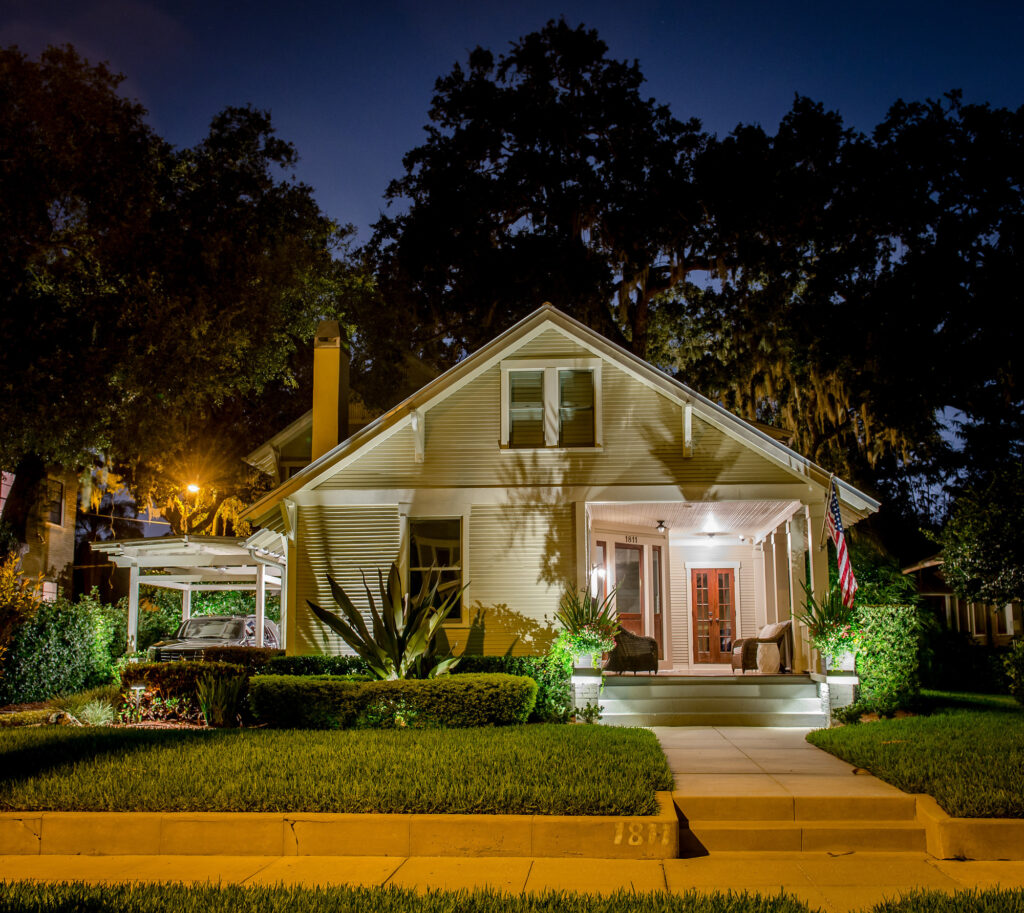 Here are a few landscape lighting tips you may want to try.
1. Entrance Lighting
Outdated lighting fixtures can be a blemish on your entryway, especially if they are deteriorated and insufficient to begin with. When selecting lighting for entrances, you want to choose fixtures that match the style of your home, although you have some latitude to inject your own personal aesthetic, as well.
Entrance lighting should, first and foremost, provide functionality. In other words, you need to illuminate your doorways. However, your entrance lighting can serve double duty – it can also highlight architectural and landscaping features around your doorways.
2. Pathway Lighting
Even if entrances are illuminated, it's still a good idea to provide some lighting along pathways (driveways, walkways, etc.) to ensure that nobody trips in the dark on their way to the door. This is as much for your benefit as your guests.
The good news is that the lighting you choose can also highlight your landscaping and add curb appeal to your property. Not only that, but with options for solar-powered pathway lighting you can also save some money on lighting these areas.
3. Accent Architectural Features
The style of your home will dictate the type and abundance of architectural features. For example, Victorian homes are much more likely to have prominent features like bay windows, spires, and other embellishments than, say, modern architecture that presents clean, simple lines.
That said, every home has features to highlight (or it can if you choose to add them). Even a blank wall can become an architectural feature when you light it appropriately.
4. Accent Landscaping
Most homeowners put a lot of money and maintenance into their landscaping, so why wouldn't you show it off? Accent lighting can be used to artfully display your trees, bushes, flowers, or even large expanses of lawn. You can also create a park-like atmosphere, hang globe lights from trees, or otherwise turn your accent landscape lighting into a beautiful and artistic display. You can showcase the beauty of your landscape and property as well as add security to your property.
5. Ambience
Lighting is an excellent tool for creating a mood with functional decor. Having to add the right tools and designs for your property could either flop the design or make your home more cozy and homey. When it comes to landscape lighting design, you definitely need to consider utility first, but you shouldn't stop there. Take the time to consider the ambiance your lighting creates, your safety, the quality of the lights, and your landscape could become the setting for after-dark BBQs, birthday parties, and intimate soirees, as well as providing use value and adding to your curb appeal.
5553 W Waters Ave Suite 310, Tampa, FL 33634
(813) 629-2228