Good light is important to both our physical and mental health – which is why it's equally important to make sure your humble abode is designed with the right lighting that is suitable for your space and your style may it be pathway lighting design, indoor lighting design, pool lighting design or landscape lighting design. Just ask anyone who lives in the Pacific Northwest – there's a reason everyone in Washington has those vitamin D lights, and why they all take supplements like it's going out of style. Light is one of those things that we humans really can't do without.
Pathway lighting design are indeed complex to do when you want to have a beautiful and inviting pathway. If you put too little on the wrong places you would be wasting your money and energy on having to design it on your own. If you put too much light on your pathway it wouldn't look as appealing as having someone professionally design it for you. There is something about a made walkway filled with glowing lamps that just makes passersby happy and think that there are friendly people are waiting inside the house. But just like any kind of home decor, there are dozens of different pathway lighting designs to choose from. How can you be sure you're picking a style that fits your house?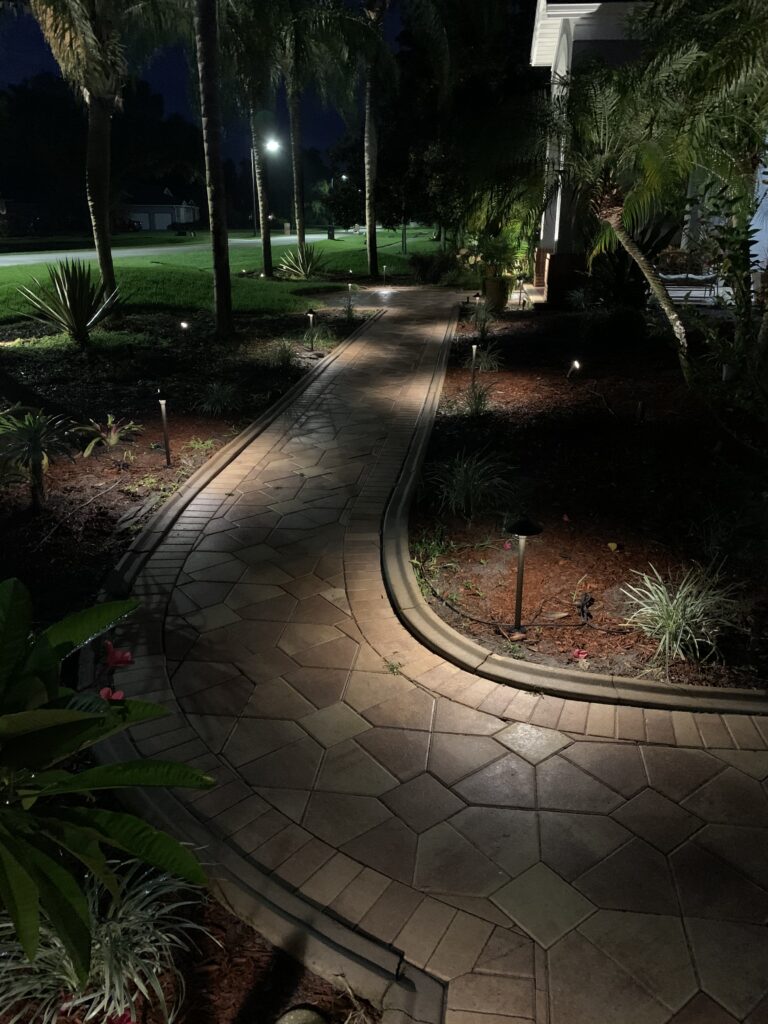 Here are a few pathway lighting design ideas to consider when you're looking to create that lovely lit-up pathway.
1. Fairy Lights
Do you want to create a whimsical atmosphere for your home? Consider this pathway lighting design, which is lining your pathway with small light globes stuck into the ground on either side of your walk. Or for an even more magical feeling, why not try buying or building an arbor strung with white Christmas lights on it? Both of those would look perfect and will give your home that curb appeal you are looking for. It will also give a whimsical aura to everyone passing by your property and they could not resist to stop and admire your home.
2. Stately and Stylish
These pathway lighting design could be one of the perfect way to highlight landscaping along your walkway. Just hide these lights among the flowers and foliage in the front of your house to make it look like the lights actually belonged there even if they see it during broad daylight. With that technique passersby won't necessarily see a line of lamps like an airport runway and will not be a sight for sore eyes, but they will see a bright, inviting and stately-looking home. The entire effect of this pathway lighting design would feel a bit like a manor home, that will accentuate the beauty and character of the place.
3. Rustic Cabin
Another cool pathway lighting design would be using copper or iron lights, crafted to look like lanterns, if you are aiming to give off a rustic "log-cabin" feel. Larger lanterns can be placed strategically among front-yard landscaping, and they will give off plenty of light while still casting enough shadow to make the place seem mysterious and deeply forested. Another pathway lighting design idea is to highlight a country-chic atmosphere. You may invest in several LED stone lights to achieve this look. You can line your walkway with these fake stones, or just stagger them appropriately, thereby hiding the artificial lighting with something that looks authentic. You'll feel as though you've just stepped into the woods when you step onto your front porch.
5553 W Waters Ave Suite 310, Tampa, FL 33634
(813) 629-2228