Some homeowners don't put considerable thought into interior lighting and even less into their residential landscape lighting design. However, more and more homeowners interested in making use of all available space on their property are finding ways to turn their yards into outdoor living spaces, ostensibly increasing their usable square footage, at least seasonally.
Whether you create entire outdoor rooms complete with full-kitchen cooking spaces (fridge, sink, counter, cooktop) or you hang a TV or projector and add lounge seating, you want to make sure your outdoor spaces are properly lit. This means engaging in landscape lighting design that transforms your yard into a well-lit wonderland that highlights landscaping, architecture, and social areas. Here are a few unique landscape lighting design ideas for your residence.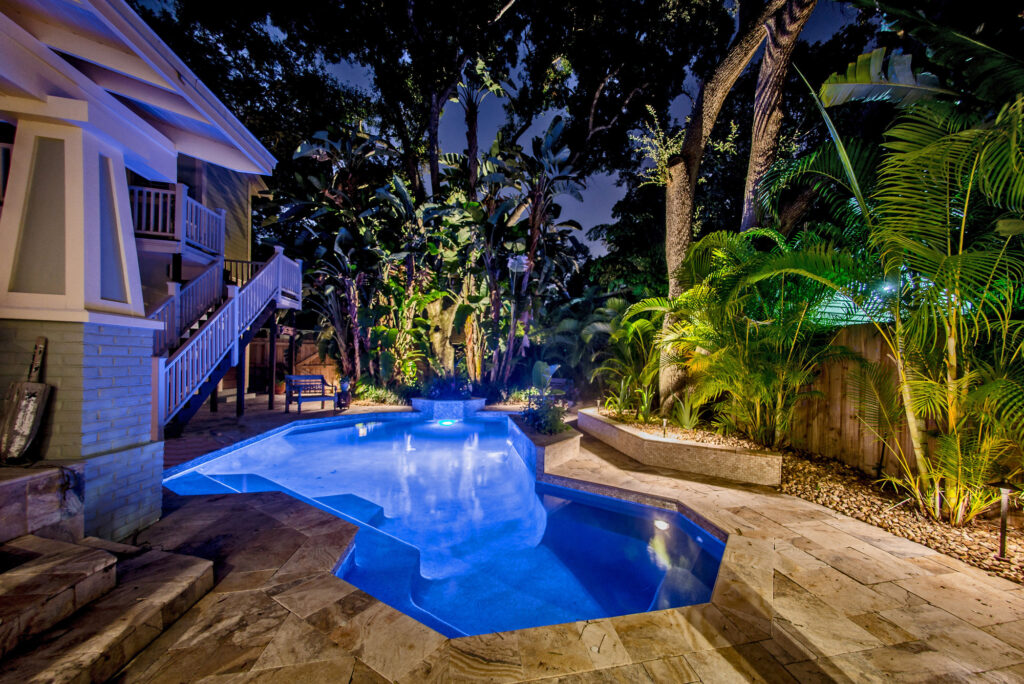 Here are a few unique residential landscape lighting design ideas you may want to try.
1. Under-lit Benches and Planter Boxes
It's not at all unusual to have functional lighting to illuminate pathways and entrances to the home, as well as purely aesthetic residential landscape lighting fixtures that highlight trees, shrubbery, and architectural features. If you want to go off the beaten path, though, so to speak, you can find unique ways to illuminate your space.
If you're interested in installing benches or planter boxes in your yard, consider installing residential landscape lighting behind or under these features as an unexpected way to illuminate walkways or highlight these areas. You can even choose see-through materials like plexiglass benches to increase illumination.
2. Outdoor Fireplace
If you like the idea of natural light even after dark, you might want to consider the multi-purpose uses a fire pit or outdoor fireplace can provide. Not only can it extend the usage of your yard into colder seasons, but it can also serve as a place to cook and a source of light after the sun goes down. You can not only add a cozy feel to your yard by having a place to enjoy with your family and friends you may also use this to add some aesthetic value to your home. If you build a full outdoor fireplace, you could include additional residential landscape lighting to illuminate brick (or other) chimney surfaces for extra light.
3. String Lights
It is always a holiday staple, string lights have branched out to become year-round, permanent landscape lighting solutions. For the family that likes to entertain and enjoys outdoor spaces long after darkness falls, string lights can be a fun and inexpensive option to consider.
You can string them on the underside of eaves or umbrellas, wrap them around tree trunks, or run them across open spaces by attaching them to poles or branches on opposite sides of the yard. All will create a cool, party atmosphere, especially if you make use of retro Edison bulbs.
4. Solar-powered Light Fixtures
Whether you want flood lights to brighten your cooking surfaces or you're interested in easy and inexpensive illumination for pathways, you can find solar-powered products to bring light to your landscaping.
5. Multidimensional Lighting
No matter how you plan to use your outdoor spaces after dark, it's important to put the same thought into exterior lighting as you do the interior. This means choosing multidimensional lighting that will meet your practical needs and your design preferences.
Consider fixtures that not only serve a purpose, such as illuminating doorways and paths, but that also provides for a variety of uses and create a beautiful and inviting space regardless of the time of day, or night.
5553 W Waters Ave Suite 310, Tampa, FL 33634
(813) 629-2228